ANA FESTA CO., LTD.
Delivering the happiness that begins with travel.
As a member of the ANA Trading Group, ANA FESTA Co., Ltd. operates ANA FESTA gift shops and food shops at 24 airports in Japan out of which ANA flies.
We aim to create shops that reflect the needs of each of our customers. From the customers who visit shops during their travels, to the people who receive gifts from those customers, and all the people who use airports for a variety of reasons, we strive to deliver the happiness that begins with travel.
We aim to be the first shop choice for customers and incorporate ANA Mileage services to increase ANA brand value and customer loyalty.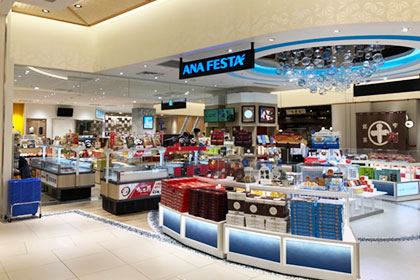 Gift shops throughout Japan (at 24 airports in Japan)
We operate ANA FESTA gift shops featuring gifts from all around Japan at 24 airports in Japan serviced by ANA flights. In addition to popular gifts from around the country, we also offer boxed lunches that can be enjoy in-flight or in the waiting areas, airplane-related merchandise, travel bags, and more.
Products unique to each region are carefully selected by local staff and we offer a wide variety of products to meet the needs of our customers.
We also focus on the development of original products.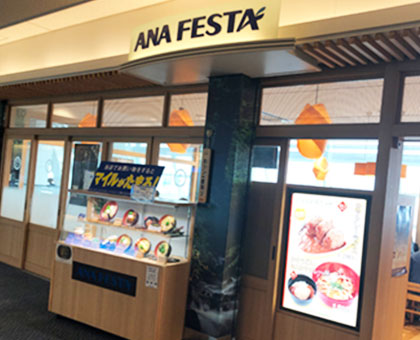 Food shops
We operate casual dining shops in airport boarding areas across the country. Shops offer light meals such as soba noodles, curry, and sandwiches. We focus on providing speedy yet gentle and polite service for customers in a hurry and work to meet the various needs of our customers.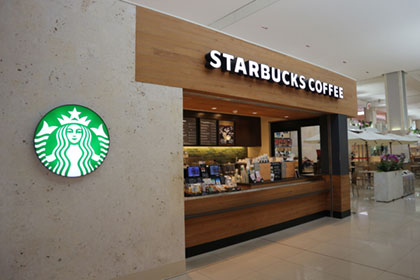 Franchise shops
We also manage franchised brands such as Starbucks and other food and beverage shops. We aim to create shop atmospheres that stimulate airport guests and further add to the excitement of the travel experience.