ANA FOODS CO., LTD.
We are involved in a diverse range of operations, including the importing of bananas and other fruits and vegetables, sales of processed foods and gifts, and exporting.
ANA Foods Co., Ltd. operates four food businesses.
The Fresh Food Business oversees every process of our products from production to sales. Our flagship products are frescana bananas from the Philippines and Tanabe Farm bananas from Ecuador, South America.
The Processed Food Business has branch offices and local subsidiaries to enable us to import high-quality, reliable food raw materials from around the world, including North America, East Asia, Southeast Asia, Europe, and Africa. We also launched the farm investment project Ana Farm to invest in walnut and prune farms, which enables us to achieve the stable provision and stable pricing for high-quality products unique to the ANA Group.
The Gift Business sells select food gifts, including the ANA's Fresh Selection, a service offered through popular department stores that allows customers to select desired gifts and specify delivery times. We have built close relations with producers throughout Japan, from Hokkaido to Okinawa, and even work with producers overseas.
The Export Business strives to be a bridge for fresh food ingredients between Japan and the world. We export Japanese ingredients, particularly fresh foods and prepared Japanese dishes, for which speed and freshness are key.
By integrating and consolidating the trading department, which promote the ANA Group diversification business and its core business, the Food business, we have further strengthened the structure that enables us to secure safety and reliability. We will continue to challenge ourselves to new business domains and exist as a strong company that responds to customer needs and that is chosen and needed by customers.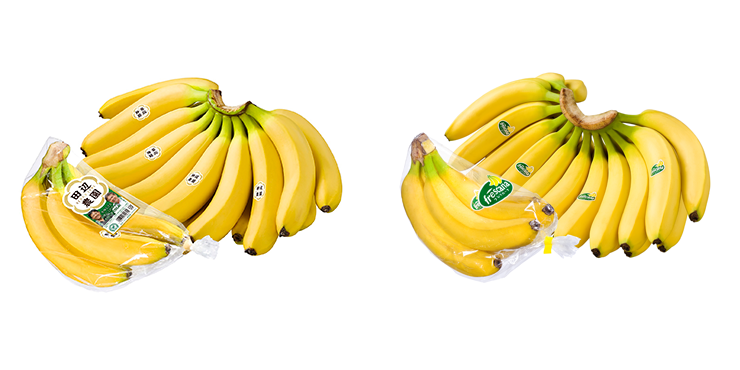 Fresh Food Business
The Fresh Food business mainly offers our private brand bananas, Frescana bananas grown in the Philippines that we developed in collaboration with ANA Trading and Tanabe Farm bananas grown in Ecuador (South America). Conducting complete in-house management from production to sales enables us to deliver fresh, safe bananas with total transparency that extends to providing photos of the farmers.
We import unripe green bananas and then conduct ripening in Japan to give them that familiar yellow color. During the ripening process, we always use visual inspections to confirm maturity and quality. Delivering bananas in their best condition requires product knowledge and an awareness of conditions at the production site. Our high quality is supported by the knowledge of our experienced staff.
We mainly sell to major supermarkets, convenience stores, and farmer's markets around the country. Our banana sales account for a 10% share of the domestic market.
We also handle avocados, grapefruit, papaya, mango and other tropical fruits and vegetables.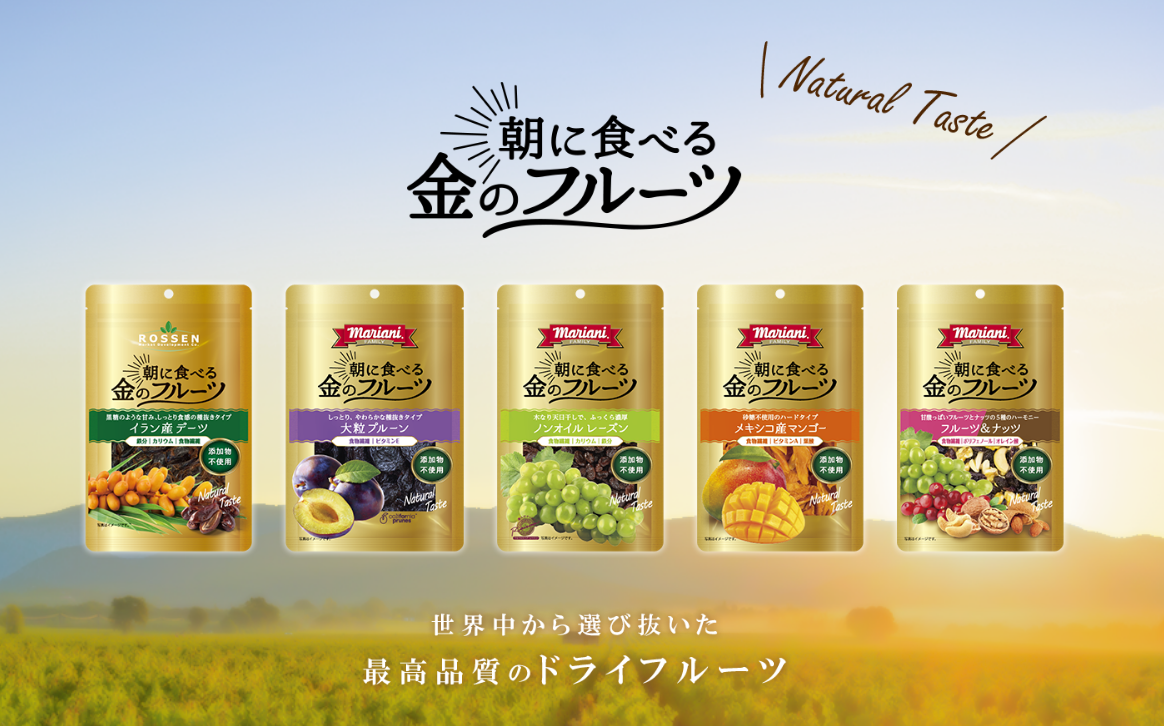 Processed Food Business
The Processed Food business has a local subsidiary in California, USA (ANA TRADING CORP., U.S.A.), which engages in timely information sharing, buying, and shipping.
In California, USA, we have long-standing distributor agreements with Grower Direct Nut Co. (walnuts) and Mariani Packing Company, Inc. (prunes). By providing customer feedback to our local offices, we are able to supply products that achieve the high Japanese standard of quality.
As a food trading company with strong ties to our production sites, we launched the walnut and prune farm investment project ANA Farm in California, USA. With increasing procurement capabilities in emerging markets such as China and India, and concerns regarding the ability to secure stable supplies of raw materials to Japan, we will pursue high quality, stable provision, and stable prices as we engage in imports and sales of trusted products conducted by the trusted hands of Japanese staff.
Our range of high-quality dried fruits selected from all over the world, Asa ni Taberu Kin no Fruits [Golden Fruits for the Morning], available in supermarkets around Japan, particularly in the Tokyo metropolitan region, is proving popular with consumers.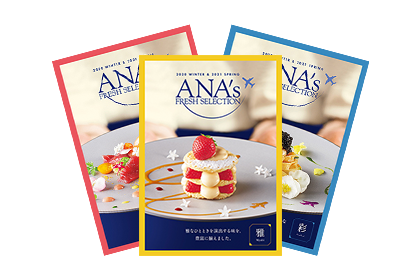 Gift Business
Through popular department stores, we deliver fresh and delicious products from Japan and countries around the world with a focus on the concepts of freshly made and freshly harvested.
Our mainstay products include over 300 items categorized into seven price ranges as part of the ANA's Fresh Selection, which allows customers to select products and specify delivery times.
We also provide choice gifts through the private brands of major department stores. In addition to product proposals, we offer a one-stop solution that includes shipment management and call center functions.
New efforts include an SNS gift service that allows users to send gifts to each other even if they don't know the other person's address or telephone number.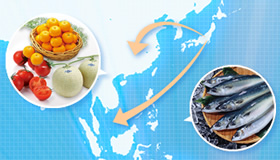 Food Export Business
The Export Business strives to deliver the delicious foods of Japan to people around the world. We export fresh ingredients gathered from all around Japan and carefully selected dishes and other processed foods. We export to countries in East Asia and Southeast Asia, and are expanding our scope to countries around the world. Fresh ingredients, including fresh fish and produce gathered from around Japan are exported using shipping methods that ensure maximum freshness. Through distribution networks built with local partners, we ship to famous restaurants and Japanese franchises to deliver the joy of fresh seasonal Japanese ingredients around the world.
To promote the global dissemination of Japanese food culture, we export Japanese dishes and confections from Japan to customers around the world. By delivering real Japanese cuisine that represents the seasonal and fresh flavors of Japan, we are working to expand the reach of Japanese food culture.