Digital & Media Business
We develop and provide a wide variety of marketing solutions to businesses and regional governments
At the Digital Media Business, we develop and provide various marketing solutions and digital gift services, to businesses and regional governments. We provide a unique solution as we are the only one who can tap into ANA Group resources (ANA Milage Club member data, and ANA's airline ticket sales network etc.), and by utilizing digital technology, these resources become true assets.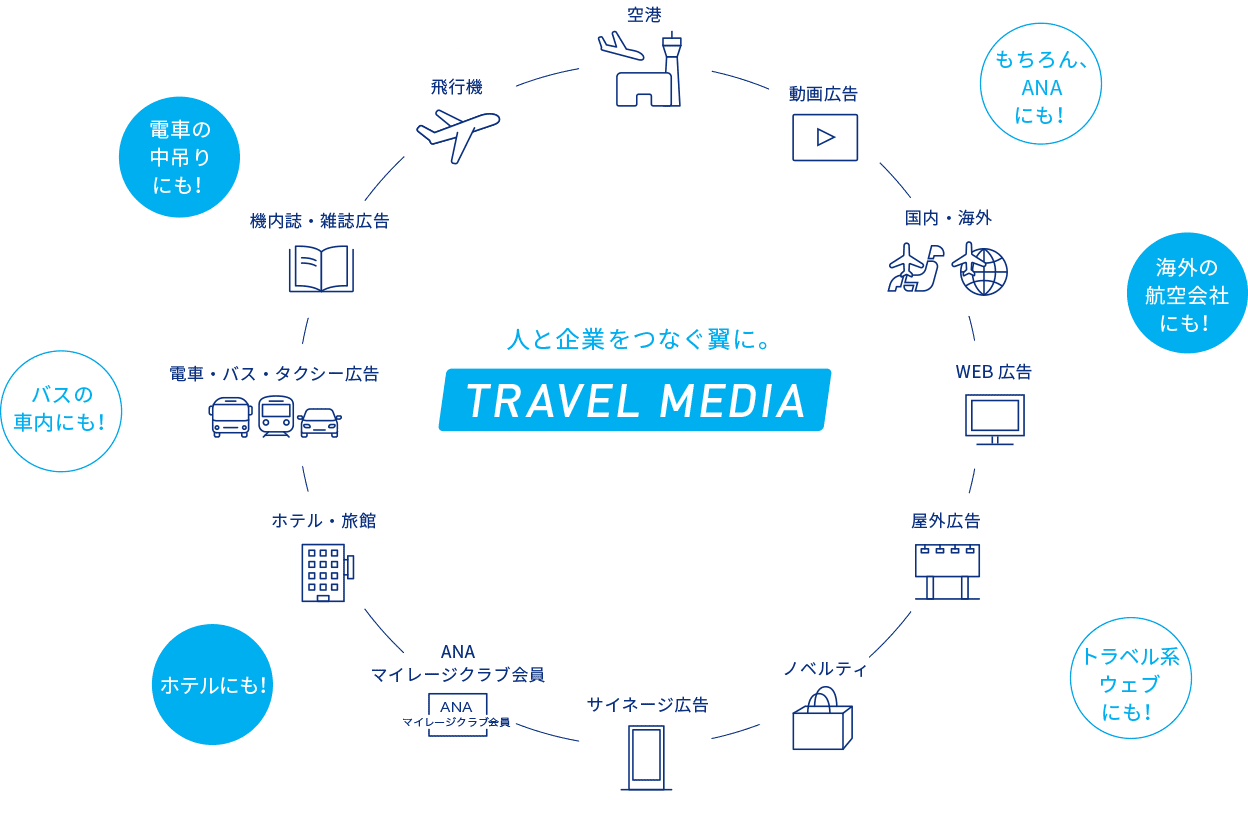 Travel media (Advertisements)
We provide advertisements solutions with a special focus on travellers throughout the travel experience process (TX). The TX does not start and end at the airport, but starts when one is thinking about where to go, and continues when one is recalling happy memories.
We propose communication strateties throughout the TX, not only during the flight (ANA, Peach airlines), but also as well as in airports, trains, taxis, etc. With special focus on digital technology, we will continue to develop unique solutions which will help our customers communicate better with the travellers throughout their TX.
Product (media) lineup
Travel media site
https://travelmedia.ana.co.jp/en/
TRAVEL MEDIA™
Domestic airports digital signage network: Airport Dynamic Advision
Digital advertising solutions : Travel Media Network Ad
Sampling Solution: Hotel Sampling
Service overview (Japanese)
https://www.youtube.com/watch?v=w7JoZjZb68U (Link to YouTube video)
Airline media
ANA media, Peach media
(in-flight media / digital in-flight magazine / digital advertising using ANA data / boarding pass ads / in-flight sampling / e-newsletter)
Another Travel Media
Sign boards, event spaces, transport media (Taxi,Train)
Geo Targeting Media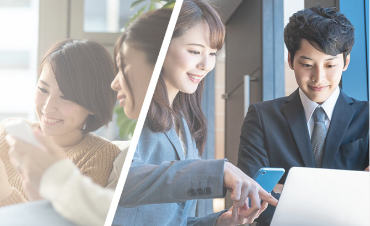 Digital gifts
Digital gift solution "Eraberu e-GIFT"
"Eraberu e-GIFT" is a B to B digital gift service that enables our customers to send a wide variety of gifts, including e-money, points, coupons, and etc.
This digital gift solution can minimize the operation and cost involved in promotion campaigns etc.

From when you think about going on a trip, to when you are reflecting on your travels. We support ads all through your journey.

B to B Digital gift service.

Smart device-based multi-payment and marketing solutions

ANA Digital Gate, Inc. is a joint venture between ANA Trading Co., Ltd. and Digital Garage Group subsidiary DG Financial Technology, Inc.
Using the latest technology to provide mPOS software and hardware, ANA Digital Gate promotes the realization of a safe, secure and convinient cashless society.
ANA Digital Gate also provides marketing services aimed at increasing storefront traffic through ANA and United mileage program services.